Massey Ferguson Tractors
Pedigree, Power & Performance!
Quality Tractors and Equipment
Maple Leaf Tractors and Equipment carry tractors, parts and equipment by Massey Ferguson, Pronovost, Horst, HLA, Dion, Kuhn, FAE and Sunflower.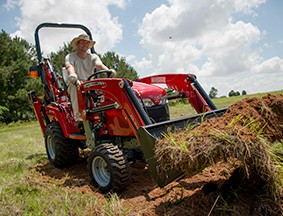 GC1700 Series
Sub-Compact Tractors
With its rugged, big tractor features, the Massey Ferguson GC1700 Series delivers impressive performance, easy-on-and-off implements. These tractors feature 22.5-25 horsepower.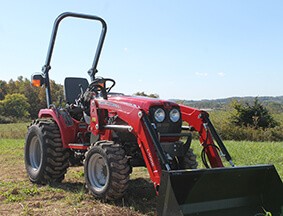 1500 Series
Compact Tractors
You wanted a small tractor with more application versatility. Well we're bringing back a versatile workhorse, the Massey Ferguson 1526 premium compact tractor. Built especially for a new generation of landowners and hobby farmers who want a tractor that's as hard-working and no-nonsense as they are. These tractors feature 24.8 horsepower.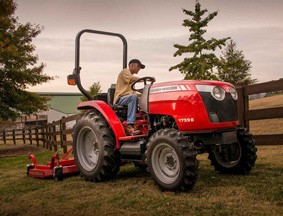 1700E Series
Economy Compact Tractors
Economy, Efficiency, Excellence – the E in 1700E Series stands for all these things, as well as Easy to afford with aggressive financing. These 4WD tractors with standard rear 540 PTO and 3-point hitch deliver more than you'd expect from economy models. These tractors feature 20.4-30.9 horsepower.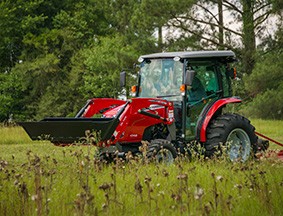 1700 Series
Premium Compact Tractors
Experience best-in-class power, comfort, convenience, and control with the 1700 Premium Series. It works harder, handles easily. The 1700 Series Premium Compact lets you experience best-in-class power, comfort, convenience, and control. These tractors feature 36-59 horsepower.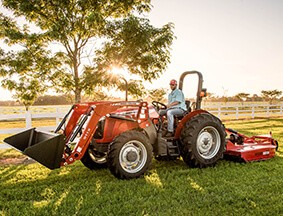 2600H Series
Utility Tractors
These tractors feature a simple, open design, along with a steel hood, fenders and platform for unmatched durability. Plus, high capacity hydraulics perfect for loader and implement work. These tractors feature 45-74 horsepower.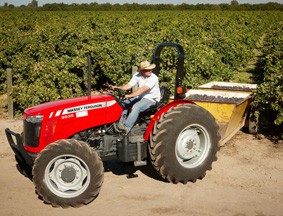 2600 Series
Utility Tractors
Maybe you don't need high horsepower. But you do need high performance. Whether you're full- or part-time farmer, landscaper, contractor or someone who just needs to get things done, the 2600 is a great working partner. The 2600 combines innovation with legendary dependability for a tough little tractor that's ready to go when you are. These tractors feature 38-74 horsepower.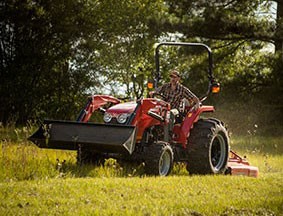 2700E Series
Utility Tractors
The 2700E Series tractor gives you a rugged stamped steel mower deck, high-performance engine, power steering. These tractors feature 49-57 horsepower.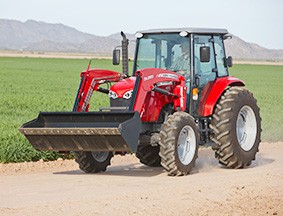 4600 Series
Utility Tractors
The 4600's 3.3L turbocharged engine is the strongest production 3-cylinder off-road diesel in the world today. In fact, this tractor is loaded with innovation. The hard-working 4600 Series is everything farmers have told us they want in a utility tractor: power, agility, versatility and, of course, comfort. Welcome to the new definition of all-around utility. These tractors feature 75-99 horsepower.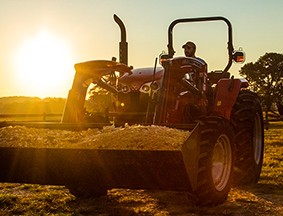 4600M Series
Utility Tractors
Whether it's rural lifestyle farming, professional or government use, the 4600M Series is ideal for loader work, mowing, hay production or any other job you can throw at it. They're durable, easy-to-operate tractors with just the right mix of innovation, technology and comfort. Working hard or playing hard, your tractor should always be comfortable. These tractors feature 74-101 horsepower.
4700 Series
Utility Tractors
Utility goes heavy-duty in the new 4700 Series. These tractors are built extra tough to handle bigger jobs with added stability and comfort. It's simple. When all the key components of a tractor are built together, they work better together. These tractors feature 80-100 horsepower.
5600 Series
Mid-Range Tractors
From powerful engines to high visibility and totally cool technology, the 5600 Series makes short work of all kinds of farm tasks. Get loads of power, versatility and visibility with this advanced mid-range multi-tasking tractor. These tractors feature 70-100 horsepower.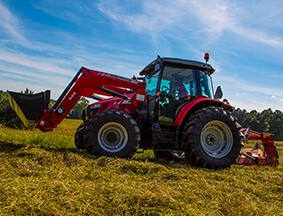 5700SL Series
Mid-Range Tractors
Our tractor components are built together, so they work better together. Giving you the right level of performance you need to handle any job. Introducing our most advanced mid-range tractor ever. This premium workhorse gives you the unmatched visibility, unparalleled versatility and high performance you're looking for, all in a smaller 110-130 HP package. You can find a bigger tractor. But it would be tough to find a better one.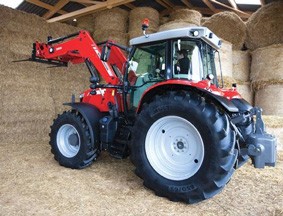 6600 Series
Mid-Range Tractors
More performance in a mid-range? You got it. The 6600 is for anyone who needs high performance with excellent maneuverability and visibility. These tractors feature 100-120 horsepower.
If you're looking for the reliability to work efficiently in all conditions, look no further than the 5700 Series. These tractors are engineered from the ground up for smart, versatile, long-lasting operation, and won't let you down no matter how demanding the job. These tractors feature 95-105 horsepower.